Tatjana Jukić (Principal Investigator)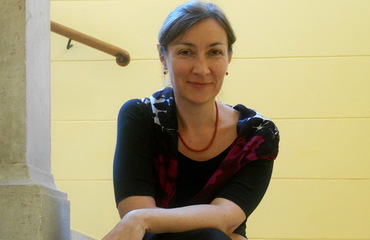 Tatjana Jukić (Principal Investigator) is Professor and Chair of English Literature in the Department of English at the Faculty of Humanities and Social Sciences, University of Zagreb. She also teaches on the doctoral programs of Comparative Literature and of Croatian Language and Literature, and has been invited to lecture on literary history and theory by universities and research institutes in the United Kingdom, Ireland, Germany, Hungary, Serbia, Slovenia and Bosnia and Herzegovina. From 2005 to 2007 she served as President of the Croatian Association for Semiotic Studies. From 2007 to 2014 she was the Principal Investigator in the research project titled "Limits of Literary Memory: Croatia in EuropeandEuropeinCroatia, 1939-2005" (funded by Ministry of Science, Education and Sports, Republic of Croatia).
Jukić is author of two books: Liking, Dislike, Supervision. Literature and the Visual in Victorian Britain (Zazor, nadzor, sviđanje. Dodiri književnog i vizualnog u britanskom devetnaestom stoljeću, Zagreb, 2002) and Revolution and Melancholia. Limits of Literary Memory (Revolucija i melankolija. Granice pamćenja hrvatske književnosti, Zagreb, 2011). While the first explores the intersections of the visual and the literary in Victorian culture in relation to the Victorian handling of politics, colonial experience, subjectivity and sexuality, the second undertakes to analyze the complex relation of the event of the revolution in modern societies, especially in the former Yugoslavia, to the junctures of subjectivity and political economy. Revolution and Melancholia was singled out by Oslobođenje, the leading Sarajevo daily newspaper, as the event of 2011 in literary studies. In addition, Jukić has published articles, in English, Croatian, Slovene and German, on nineteenth- and twentieth-century literature, psychoanalysis, film and philosophy. She is currently completing a book provisionally titled The Invention of Masochism.
Selected publications:
Books
Revolucija i melankolija. Granice pamćenja hrvatske književnosti, Zagreb: Naklada Ljevak, 2011.
Zazor, nadzor, sviđanje. Dodiri književnog i vizualnog u britanskom devetnaestom stoljeću, Zagreb: Zavod za znanost o književnosti Filozofskoga fakulteta Sveučilišta u Zagrebu, 2002.
Articles and book chapters
"Cavell's Shakespeare, or the Insufficiency of Tragedy for Modernity". Bollettino Filosofico. 32. 2017, 67-87.
"Fictions of Crime in a State of Exception". The Cultural Life of Capitalism in Yugoslavia. (Post)Socialism and Its Other (eds. Dijana Jelača, Maša Kolanović, Danijela Lugarić). Cham: Palgrave Macmillan, 2017, 43-60.
"The October Garbo: Classical Hollywood and the Revolution". Studia litterarum. Vol. 2. No. 2. 2017, 56-63.
"The Psychopolitics of Socialism in Central and Eastern Europe (With Notes on 'Walter Defends Sarajevo')". Myth and Its Discontents: Memory and Trauma in Central and Eastern European Literature - Mythos und Ernüchterung: Zu Trauma und (fraglicher) Erinnerung in Literaturen des zentralen und östlichen Europa (eds. Danijela Lugarić, Milka Car, Gabor Tamas Molnar). Wien: Präsens Verlag, 2017, 191-203.
"Derrida's Jefferson". Working Papers in American Studies. Vol. 2. 2016, 81-98.
"Stanley Cavell, Classical Hollywood and the Constitution of the Ordinary (With Notes on Billy Wilder)". AM Journal of Art and Media Studies. Issue 9. April 2016, 93-106.
"Post-Socialism Remembers the Revolution: The Comedy of It". Post-Yugoslav Constellations. Archive, Memory, and Trauma in Contemporary Bosnian, Croatian, and Serbian Literature and Culture (eds. Vlad Beronja, Stijn Vervaet). Berlin and Boston: De Gruyter, 2016, 149-168.
"Deleuze on the Superiority of Anglo-American Literature: A Victorianist Perspective". English Studies as Archive and as Prospecting (eds. Stipe Grgas, Martina Domines-Veliki and Tihana Klepač). Newcastle upon Tyne: Cambridge Scholars Publishing, 2016, 43-61.
"Strašna resnica: O metonimični racionalnosti pri Hawksu in Cavellu". Stanley Cavell. Refleksija filma (ed. Ivana Novak), Ljubljana: Slovenian Cinematheque, 2015, 117-133; "The Awful Truth: On Metonymic Rationality in Hawks and Cavell". Studia Romanica et Anglica Zagrabiensia. LX, 2015, 99-115.
"Garbo Laughs: Revolution and Melancholia in Lubitsch's Ninotchka". Lubitsch Can't Wait. A Theoretical Examination (eds. Ivana Novak, Jela Krečič and Mladen Dolar), Ljubljana: Slovenian Cinematheque, 2014, 83-110.
"An Austro-Hungarian America: Emerson for Croatia, 1904–5". Working Papers in American Studies, Vol. I, Zagreb, 2014, 73-82.
"Viktorijanska biopolitika, psihoanaliza i Sherlock Holmes: Skrletna studija". Književna smotra, Vol. XLVI, 172 (2), Zagreb, 2014, 5-13.
"Revolucija između biopolitike i psihoanalize". Otpor. Subverzivne prakse u hrvatskom jeziku, književnosti i kulturi (eds. Tvrtko Vuković and Tatjana Pišković), Zagreb:Zagrebačka slavistička škola, 2014, 21-34.
"The Man Who Knew Too Much: Žižek and the Balkans". European Journal of English Studies, Vol. 17, Issue 2, 2013, 160-175.
"Between Auschwitz and Siberia: James Joyce, Danilo Kiš and a Zoning of Totalitarianism". Ireland, West to East: Irish Cultural Interactions with Central and Eastern Europe (eds. Aidan O'Malley and Eve Patten). Oxford, Bern and New York: Peter Lang, 2013, 135-158.
"'I melankolija može da provali iz čovjeka kao lava': politika afekta u Zastavama". (Ne)pročitani Krleža: od teksta do popularne predodžbe. Komparativna povijest hrvatske književnosti XV (eds. Cvijeta Pavlović, Vinka Glunčić-Bužančić and Andrea Meyer-Fraatz). Split and Zagreb: Književni krug Split, Odsjek za komparativnu književnost Filozofskog fakulteta u Zagrebu, 2013, 203-215.
"Matošev loboratorij: rad, goli život i tumačenje snova". Prostori snova. Oniričko kao poetološki i antropološki problem (eds. Živa Benčić i Dunja Fališevac). Zagreb: Disput, 2012, 339-361.
"Ilirizam i tumačenje snova: Gundulići Vlaha Bukovca". Poznańskie Studia Slawistyczne, 2, 2012, 189-211.
"Žalovanje ili melankolija?: psihoanaliza i ekonomski problem Derridina marksizma". Politička misao, 48/1, 2011, 49-75.
For full bibliography see http://bib.irb.hr/lista-radova?autor=212016&lang=EN
Profile at English Department, University of Zagreb: http://anglist.ffzg.unizg.hr/?p=18945&lang=en
Profile at academia.edu: https://unizg.academia.edu/TatjanaJuki%C4%87